April 20, 2021
Traditional fish and chips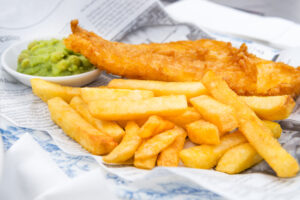 For the Fish (breaded fish):
1 kg of fillet codfish and hake (plaice for me)
150 g of flour
150 ml of sparkling water or normal water (+ or- depending on the absorption of the flour)
1/2 teaspoon baking powder
1 teaspoon of chives and dried parsley or other herb of your choice
Salt & pepper
For the Chips (fried potato style):
1 kg of potatoes
1 teaspoon of paprika
Mix of dried herbs thyme, chives, parsley, oregano
1 teaspoon of dried garlic
A good drizzle of olive oil
Salt pepper
We start with the potatoes; wash and peel the potatoes and cut them into segments with a knife.
Place the cut potatoes in an ovenproof dish, season with salt, pepper, paprika, dried herb mixture, dried garlic and drizzle with a good drizzle of olive oil.
Put the potatos in an oven preheated to 200°C and let them cook for about 20 minutes to watch, the potatos must not burn!
In the meantime, prepare the breaded fish: place the flour in a bowl, add salt, pepper, baking powder and dried herbs, then mix with a whisk.
Gradually add the water, continuing to mix all the elements well, until you obtain a very homogeneous, smooth and lump-free mixture that coats the back of the spoon well.
Season the fish fillets with fine salt and pepper on both sides.Lightly flour the fillets then dip them in the batter.