About Fenip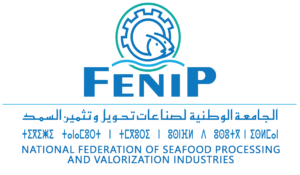 The Moroccan Federation of Seafood processing Industries (FENIP) is a professional organization created on November 21, 1996. FENIP brings together all the professional associations in the sector of seafood development industries, namely:
The semi-preserved fish industry: represented byAMASCOP (Moroccan Association Of Semi Preserved Fish)
The fishmeal and oil industry: represented by ANAFAP(National Association of Manufacturers of Fish Meal andOil)
Ground freezing of seafood: represented by ANICOM(National Association of Seafood Freezing Industries)
The seafood processing industries in Agadir representedby FIPROMER
The fish canning industry: represented by UNICOP
The seaweed processing industry (AGAR AGAR), associated member.
The aquaculture sector: represented by the UNAM(National Union of Aquaculturists of Morocco).