April 19, 2021
Seafood paella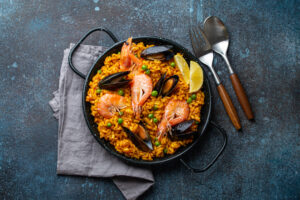 1 tablespoon olive oil
1 onion
1 paprika and thyme
300g paella or special risotto rice
400g preserved tomatoes
400g mixed seafood
lemon: in juice, and in slices
parsley
Combine two tablespoons of olive oil with paprika, oregano, salt and pepper.
Toss in garlic, small pieces of red peppers and rice for 3 minutes.
Add the water broth.Add saffron strands, bay leaves, parsley, lemon zest, cover and reduce the temperature for 20 minutes.
Scatter the rice on a platter or large plate.
add the hot seafood on top.