April 19, 2021
Moroccan sardines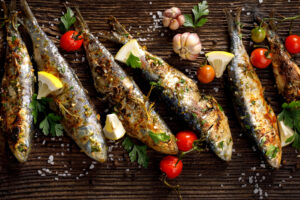 5 cans of sardines
2-3 cloves of garlic
1 tomato
1 bell pepper
2 onions
parsley
Wash, cut well and dry the sardines to fill them with Chermoula.
Place a sardine skin down and spread it with Chermoula and place another sardine on it face to face. Like a chermoula sandwich, but instead of bread, it's sardines! Cover and marinate for 2 hours in the refrigerator.
Dry the sardines and flour them.
Fry the sardines in oil for 3 minutes per side.
Do not forget to dry the sardines well to avoid excess oil before serving them.