April 19, 2021
Fish roulades with American sauce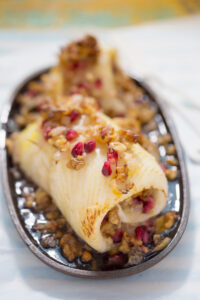 200 g Salmon fillet
4 Lemon sole fillets
5 Tin of lobster bisque (150 g)
2 Egg yolks
125 g of Butter
5 Lemon
Powder of cayenne pepper
Salt & pepper
Cut the salmon fillet into four pieces.
Place one on each dab fillet. Add salt and pepper.
Roll up the nets, hold them with a wooden spike. Steam them for 15 minutes.
Keep warm.
In a saucepan over low heat, whisk the egg yolks with 4 cl of cold water until they are creamy.
Remove from the heat, incorporate the butter in pieces then the hot lobster bisque, whisking vigorously.
Add the lemon juice and a hint of cayenne pepper to the sauce.
Serve your fish roulades with the sauce and a garnish of fresh pasta.